I'm really thrilled with the way this kitchen remodel turned out.
This is the 4th home I've owned, and I've done progressively more work to the kitchen with each move. This is the first time I totally gutted a kitchen, and the first time I had to buy cabinets.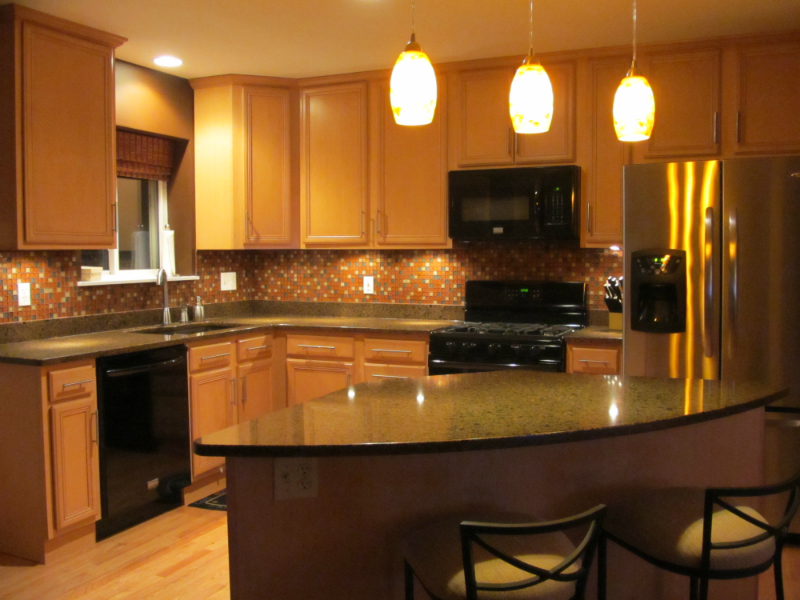 First major kitchen remodel (my 2nd home)
Last kitchen remodel (3rd home)
While I love the dark espresso color cabinets (like the floors in my last kitchen), my kitchen is small and I thought white cabinets would make it look bigger. I also wanted to carry the cabinets and a window seat into the breakfast room. I think the cabinetry needed to match in the 2 rooms and dark cabinets wouldn't look good in the breakfast room.
So white cabinets it is.
I also decided to go with traditional polished granite counters. In my first house, I bought a granite looking formica. The next house I went with Cambria brand quartz, which I loved. On the last house, I wanted something different from the quartz I had just used, but couldn't find another quartz I liked. I ended up doing brushed granite and I loved the texture and natural stone feel.
But you are really limited on color choices in granite if you go for a finish that isn't polished, so I decided to polished granite would be my choice this time.
Much of the other options were very similar to the last kitchen I did. I even used the exact same faucet. But it sure doesn't look like any of my prior kitchens.
Ok, I've kept you waiting long enough.
Kitchen Remodel – AFTER Pictures:
The glass tile backsplash looks more green in this picture than it is in real life. It's more of a light aqua when the under cabinet lights are off.
I ended up going with 2 easy reach corner base cabinets. They are basically a lazy susan style cabinet without the lazy susan. One holds all of my pots and pans, and the other holds all of my baking dishes. It was a really good decision to go with them over a blind corner cabinet or a lazy susan.
I love my gas double oven. I do 99% of my cooking in the top oven, which means a faster preheat, less energy usage and a cooler summertime kitchen. I decided to save some money by going with the 4 burner model since I can't every think of a time when I actually had 5 burners going at the same time.
I'm in love with this granite color. I really struggled to find a granite with some brown tones that would look good with white cabinets. Almost everything out there was either really light or in the black/gray tones…which felt very cold to me.
I opted for a long dowel style knob on the sink cabinet so it could double as a towel rack.
I have no use for a breakfast bar, but like the idea of the raised counter. It hides some of the clutter of everyday life and the top piece works great as a serving buffet.
This is the 3rd time I've bought this type of a kitchen sink. I use the large left side for washing dishes and the smaller, but still big, right side as a dish drainer.
I'm in love with this refrigerator. Water and ice in the door. It's exactly the same as my last one, though a tad smaller since I really didn't need so much space and the bigger they are, the more expensive they are to run.
I ordered a pull out drawer for the cabinet over the refrigerator. It's perfect for the extra platters and things I don't use all that often.
The house doesn't have a pantry closet, so I decide to put a pantry cabinet in the breakfast room. Once I add a window seat to the back wall, it will look a lot better.
The original plan was just to have pull out drawers on the bottom half, but they arrived with a nick in the wood and I was sent replacements. I'm thrilled because it means that I was able to turn every shelf into a pull out.
After living with the finished kitchen for a few months now, I can honestly say I wouldn't do anything differently. And while it was a big mess and major inconvenience living in a house without a kitchen, I would do it again in a minute.
See what the kitchen looked like before the remodel: