I love pancakes.
I always have. As a kid, it was my favorite breakfast. As an adult, I've branched out and continue to try new pancake recipes. So when I decided I needed to use up my pantry food in preparation for moving, the obvious choice for the canister of cornmeal was pancakes.
I found a recipe for pumpkin cornmeal pancakes, but decided it needed some tweaking. What a surprise…I tweak just about every recipe I find. Sometimes I change major ingredients, sometimes I adjust the spice or reduce fat. In this recipe, I knew I needed to up the cinnamon and vanilla, among other things.
So if you are looking for an special breakfast that is still easy to make, pull out that leftover can of pumpkin you picked up during the Thanksgiving grocery store sales and give this recipe a try.
Pumpkin Cornmeal Pancakes:
Scroll down for a printable recipe card and nutritional information. 
Ingredients:
1  cups all purpose flour
1  cups cornmeal
1/4 teaspoon salt
2 tablespoons baking powder
2 tablespoons sugar
1 teaspoon cinnamon
1 1/2 cups milk
1 cup pumpkin puree (NOT pumpkin pie filling)
1 egg
1 teaspoon vanilla
2 tablespoons melted butter
Directions:
This recipe really couldn't be easier. First you mix all of the dry ingredients together. Then add the wet ingredients and stir to combine.
Coat your griddle or frying pan with cooking spray and cook on medium heat until the first side is lightly browned.
Flip them over and smash the pancakes down with a spatula after about 1 minute. The batter is really thick so if you don't smash it done, the middle isn't going to cook through. Cook until the second side is lightly browned and remove to a serving plate.
Spray the pan between each batch of pancakes so they don't stick. You could use some butter in the pan instead of the cooking spray, but the pancakes taste really good without it and they are so much healthier this way.
These aren't light and fluffy pancakes. The cornmeal and pumpkin creates a grainy dense pancake. All it takes are a couple to fill you up.
This recipe makes 8-10 pancakes, depending on how big you make them. Go ahead and make extras as you can refrigerate or freeze these pancakes and heat them up later in the microwave for an easy weekday breakfast.
TIP: Since this recipe calls for only 1 cup of pumpkin and most cans hold about 2 cups, it's the perfect way to use up the leftover pumpkin after you open the can for another recipe. 
I love Pinterest and social shares!
MORE PANCAKE RECIPES: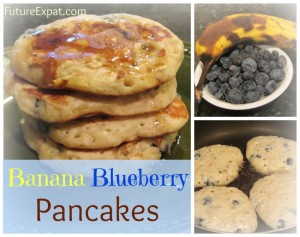 [kitchenbug-your-recipe-appears-here-23354]