My Mom's Chicken Divan recipe was my very favorite dinner as a child. I asked for it as my birthday dinner every year.
When I moved out on my own, Chicken Divan was one of the recipes I asked my Mom to type up on a recipe card for me. Over the years, I've switched to using fresh broccoli instead of frozen broccoli spears and increased the curry a bit (I LOVE curry!), but otherwise it's basically the same as what my mom put on the dinner table.
As a kid, all I cared about was how my food tasted. Now that I'm doing the cooking, I appreciate how easy it is to make Chicken Divan as much as I love how it tastes.
It's also the only recipe that I haven't been able to give up when I shifted away from cooking with canned soup!
While I normally make this recipe with chicken, it is the perfect way to enjoy leftover Thanksgiving turkey.
If you are making chicken or turkey just for this recipe, you can cook it however you want but stick with something that doesn't have a lot of coating on the skin or too much spice.
My Crockpot Shredded Chicken and Crockpot Beer Shredded Chicken are both perfect for this recipe, but you can also use store bought rotisserie chicken or just about any baked chicken recipe.
Chicken (or Turkey) Divan:
Ingredients:
2 cups fresh broccoli florets, separated into small pieces
2 cups cooked chicken
1/2 cup mayonnaise
1 can cream of chicken soup
1 tbsp lemon juice
2 tsp curry powder
1/2 cup grated cheddar cheese
1/4 cup bread crumbs
Directions:
This recipe is simple enough for a cooking newbie.
Start by preheating the oven to 350 degrees. Then place your broccoli over the bottom of 8×8 glass baking dish that you gave a light coating of cooking spray.
I personally use just the florets, but if you like the stems too, I suggest you follow this blogger's tip to get rid of the bitterness that you can find in broccoli stalks.
Evenly spread out your chicken or turkey across the broccoli. Be sure to use bite sized pieces of the chicken…it will make serving so much easier.
Next mix together the mayonnaise, soup, lemon juice and curry powder. Be sure to use the mild sweet curry you find in regular grocery stores in America, not a spicy Indian or Thai curry.
Spread the mayo soup mixture over the chicken and then top it with the cheese.
I normally would have grated the cheese for this recipe, but my grater broke and I only remembered I hadn't purchased another one when I hit the point that I needed to grate my cheese.
Rather than pulling out the food processor to grate such a small amount of cheese, I did what my Mom did. She used American cheese or cheddar cheese slices for this recipe, and simply cut the slices with a knife into small pieces.
I know it doesn't look like a ton of cheese but I encourage you to go light on the cheese. You aren't trying to smother everything in cheese. You just want a little to give you a mix of flavors in each bite.
The last step is to sprinkle bread crumbs lightly across the top. I never measure here…just shake the canister lightly from side to side. I use the store bought Italian bread crumbs, but I'm sure this would be great with homemade bread crumbs too.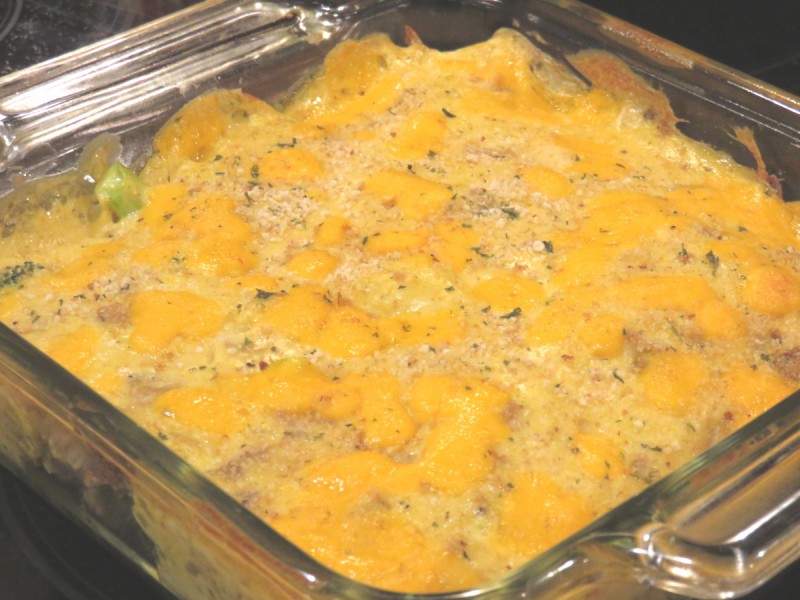 If you preheated your oven at the beginning, your oven should be all ready by the time you finish assembling everything. Pop the dish into the oven and bake for 25-30 minutes, or until everything is bubbly on the edges. Keep an eye on it at the end so the cheese doesn't brown.
If you are using leftover chicken or turkey, this recipe should take you 10 minutes to assemble. While it is cooking, you can put together a salad, rice or potato. In about 45 minutes, you'll be sitting down to dinner with a delicious meal that everyone will like.
Does someone in your family hate broccoli?
I've made this without the broccoli on the bottom too for an easy chicken dish.
Printable recipe card below…click on the + sign for nutrition information for this chicken recipe.
I love Pinterest and Facebook shares!
Try these recipes to make your chicken the day before you want to make chicken divan.
[kitchenbug-your-recipe-appears-here-23306]