When I decided to take a road trip with dogs a few months ago, the first thing I focused on was finding dog friendly hotels.
This vacation was my first trip with dogs and we stayed in 6 hotels over the 2 week trip. I learned a lot about what worked and what didn't on this trip. Next time I travel with Milo, I'll know what to look for in hotels and what to avoid.
Our Road Trip Hotels:
Below you can find my reviews of the hotels we stayed at in:
Elk City, Oklahoma
Sante Fe, New Mexico
Grand Canyon Village, Arizona
Las Vegas, Nevada
Grand Junction, Colorado
Denver, Colorado
What We Wanted in a Hotel:
As I looked at our options, here is the criteria that I used when choosing hotels:
dog friendly!
dog rules and fees – it's very important to check these out before booking a room
non-smoking – not a requirement, but a non-smoking hotel was a plus
free wifi – I planned to work on the blog in the evenings, so I wanted free wifi in the room
free breakfast – not a requirement but a hot breakfast was a big plus as it would save us time in the morning
potty area nearby – I spent a lot of time looking at Google maps to see if there was grass near the hotel
reviews – reviews had a big impact on where we stayed
cost – with so many hotel nights, cost was a major factor for us
Winner – Best Pet Policy
La Quinta Inns & Suites (Elk City, OK)
La Quinta Inns & Suites Pet Policy
When I started planning the route for the road trip, I decided to make the first couple of days be driving days. There wasn't anyplace I wanted to stop in Missouri since it's my home state and I wanted to do the long driving days at the beginning.
Using Roadtrippers to help me calculate drive time between stops, I picked Elk City, Oklahoma for our first overnight stop.
Elk City is a typical midwest highway town. There are a few places to spend the night and a bunch of fast food restaurants. We thought about staying someplace super cheap in Elk City since we would be arriving late and leaving early. However, after reading the reviews, we decided that the almost brand new La Quinta was the best choice.
Milo and Lexi in their first hotel room
I've heard that La Quinta hotels are really great hotels for travelers with dogs and wanted to try one out on this trip. La Quinta has one of the best pet policies around. They don't have any extra pet fees and allow you to leave your dogs and cats in your room while you go out as long as they won't disturb other guests.
The room was nice and the bathroom offered plenty of counter space, something I've found is one of the things that really influences how I feel about a hotel.
I also really liked the La Quinta breakfast which includes make-your-own waffles along with the standard continental breakfast offerings you find at most budget hotels.
Our visit was in early May, so the pool wasn't open yet. Dogs aren't allowed in the pool patio area, so we didn't go down and sit there, but I did grab this picture through our room window.
My only complaint about this hotel was that they seemed to have a lot of shift workers living there and they came in very late. Milo and Lexi weren't used to staying in hotels yet and every time they heard a person in the hallways they were up barking. That first night I think we were up 5 or 6 times through the night shushing the dogs.
Winner – Best Cheap Hotel Near an Expensive Area
Holiday Inn Express Cerrillos (Sante Fe, NM): 
Holiday Inn Express Sante Fe Pet Policy
We spent 2 nights at the Holiday Inn Express in Sante Fe, NM. I really liked the location of this hotel. While it wasn't in the main tourist part of town, it was just a few minutes away and the price was dramatically lower. The hotel was clean and the staff was friendly.
While they did have a $30 pet fee, I got us a discounted rate by calling the hotel directly and our total cost was one of the cheapest on the trip. The room was a little on the small side, but we didn't spend a lot of time there so it was fine.
And the beds were comfortable. Milo and Lexi thought so too.
Like all of the hotels, the dogs aren't allowed in the dining area where breakfast is served. At this hotel, they did have a family room that was adjacent to the breakfast room where you could eat with your dogs by your side.
Breakfast was good and got us moving quickly in the morning.
If I ever make it back to Sante Fe, I'll definitely stay here again.

Winner – Best Access to Major Tourist Attraction
Red Feather Lodge (Grand Canyon Village, AZ): 
While our stop at the Grand Canyon was one of the highlights of the trip, the Red Feather Lodge was a disappointment.
We really wanted to stay in Grand Canyon Village (technically Tusayan, Arizona), and there aren't a lot of choices where you can stay with dogs without spending a fortune.
The Red Feather Lodge is made up of the motel, where dogs and smokers are allowed, and the newer hotel, where dogs aren't allowed. They won't even let you bring your dogs in to the reception desk.
I learned a big lesson by staying here. While you would think that having easy access to the outdoors and your car would be an advantage when traveling with dogs, the reality was that the dogs reacted much more to people coming and going. In a standard hotel, they could only hear the people walking past our door. At the Red Feather Lodge, they heard everyone…and they were barking all night long every time they heard a car or a person moving about.
The beds look nice, but they were also the least comfortable of the trip. 
It didn't affect us, but I'm sure that a lot of families stay here and are surprised that the bathroom doesn't have a tub.

One of my other complaints was the lack of space to put your things. The vanity, which was outside of the bathroom, had almost no counter space. The small desk was the only surface to put your things on and there wasn't much space for the luggage.
The Red Feather Lodge was one of the few places with an official potty area, but for a dog like Milo who needs a bush or tree to do his business, it didn't work very well.
Bottom line is that I loved staying in Tusayan for easy access to the Grand Canyon, but I didn't like the Red Feather Lodge. If I ever went back and didn't have a dog, I would definitely stay someplace else. If I was traveling with dogs, I would look hard to see if there is another option before staying here again.
And no, they don't give you breakfast.
Winner – Best Rooms and Dog Friendly Staff
Westin Lake Las Vegas (Las Vegas, NV): 
Westin Lake Las Vegas Pet Policy
While the other hotels on this trip were all budget friendly, we did stay in one really nice hotel – Westin Lake Las Vegas. This hotel experience was completely different than the others because this hotel is a resort.
Normally I wouldn't spend the money to stay at a hotel like this, but I wanted to stay in the hotel where the Blog Paws Conference was being held.  The discounted conference rate actually brought the cost down so much that it wasn't much more expensive than the other places we stayed.
I've stayed at a number of fancy hotels for conferences, and this was one of the best experiences I've ever had. The hotel staff, public spaces and the rooms all surpassed expectations.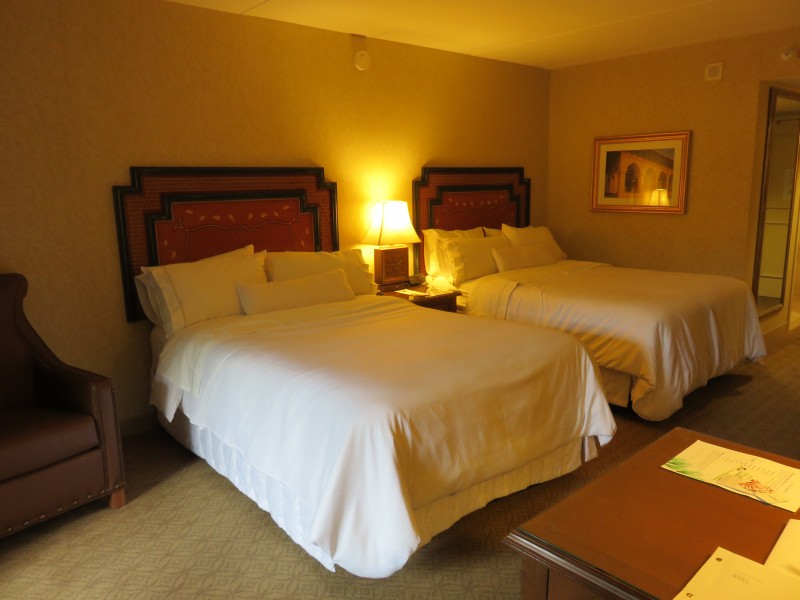 These rooms were really spacious, which was appreciated since we spent 4 nights at this stop.
 I loved that we had a private patio. If I hadn't been so busy with the conference, I definitely would have used it more.
Dogs are allowed in the public lounges except for the dining areas. While there where huge numbers of pets during out stay due to the conference, it was obvious that the staff was used to catering to guests with dogs.
Gorgeous view!
Pets aren't allowed in the pool or beach areas, but I snapped a few pictures for you from the nearby walkways.
Everything about the Westin Lake Las Vegas is great. The only negative I can see is that people who want to spend a lot of time in at the casinos will have a bit of a drive.
Winner – Best Room Rate
Econo Lodge (Grand Junction, CO):
After spending 4 nights at the gorgeous Westin Lake Las Vegas, we were ready to hit the road. My niece Megan lives in Denver and we wanted to have as much time as possible to spend with her, so we really just needed a spot to spend the night between 2 driving days.
Grand Junction, CO was the ideal location and has a quaint downtown we could explore in the morning before getting back in the car. We found a nightly rate at the Econo Lodge for $55 with no pet fee. Rates that low almost made us a bit nervous about what we would get, but this Econo Lodge was 100% non-smoking and gave us everything on our wish list, so we decided to save a few bucks and give it a try.
We arrived late at night after a long day of driving through a spring snow storm in Utah, and the night reception guy was as nice as he could be.
The room was actually larger than places where we spent more money. It had a lot of space for all of us and the beds were comfortable. The room didn't have a dresser so there was limited counter space, but since we were there only one night, that didn't matter to us. If we had been staying longer than 1-2 nights, I think I would have gotten frustrated with where to put my things.
Photo Credit – Choice Hotels
The only issue I had with the Econo Lodge was the breakfast room layout. It was a small room that didn't have enough tables for everyone wanting to eat, so you felt that you had to rush and leave quickly so someone else could sit down.
Photo Credit – Choice Hotels
This hotel also had the worst possible layout for the breakfast buffet. Even though they had just a small amount of food options to fit in the serving area, the person who designed the layout clearly never actually ate breakfast there at peak dining time. People trying to get something out of the fridge blocked the people trying to get food or coffee and the inefficient design resulted in a line of people waiting to get food.
That said, the price was right and I would definitely recommend staying here if you just need a place to sleep that doesn't break the budget.
Winner – Best Breakfast and Dog Potty Area
Since we hoped to spend as much time as possible with my niece Megan during our 2 days in Denver, location had a major impact on our hotel choice. There simply weren't any budget hotel options that were dog friendly in the area we needed to stay, so we ended up at the luxurious Hyatt Place in Cherry Creek.
When you factored in the $75 pet fee, this was the most expensive hotel of the trip (the Westin Lake Las Vegas would have been the most expensive if we hadn't received a discounted conference rate).
The room had modern decor and a ton of space.
One of my favorite things about this hotel were the luggage carts sitting by the front door. No need for tipping a bellman or making multiple trips up to your room. The carts were easy to maneuver and made moving in and out a breeze.
The lobby was another plus for this hotel. The business center wasn't off in a closed off room and there is so much seating that you don't have to worry about your dogs imposing on the other guests while you are in the lobby.
There were also plenty of places in the lobby you could eat your breakfast with your dogs rather than having to leave them in the room while you eat.
Breakfast was also by far the best of the trip. The buffet area is huge and the food selection is comparable to going to a restaurant.
The potty situation for dogs was also the best setup during the trip. Just outside the back door was a large patio surrounded by tons of grass, bushes and trees. After almost 2 weeks of going to the bathroom on dirt and rocks, Milo was in heaven.
 Do you have a favorite pet friendly hotel chain?