Since I started volunteering for Gateway Pet Guardians last April, I've fostered 7 dogs, transported dogs to adoption events, helped a puppy sell raffle tickets at a fundraiser and got up before dawn to feed the strays of East St. Louis.
Yesterday, I added community outreach to the list.
Loaded up with dog houses, straw, food, treats and flyers about the pit bull free spay – neuter program, we made the 15 minute drive from the Gateway Pet Guardians emergency shelter to impoverished East St. Louis.
I rode with Brian while Julia and Nancy took a second vehicle and started off by picking up one of our Junior Guardians. Tremaya attends East St. Louis High School and helps out with many of our outreach efforts near her home. Yesterday, she got to snuggle with a newly rescued puppy while we continued our work.
More about the puppy rescue in a bit…
Giving Out Dog Houses:
The goal of yesterday's outing was to give out 10 dog houses with straw for bedding to dogs that lived outside in the cold without shelter. We also had lots of extra straw to give to people who already had dog houses but nothing inside them to help the dogs keep warm.
As the temperature continued to drop and my legs started to get really cold, it made me consider buying long underwear for next time…and made me even more committed to helping the dogs without any shelter.
We found homes that needed dog houses by driving up and down residential streets looking for dogs outside. While most people would have feared for their safety on these streets, we were looking for the worst possible streets…these were the streets where the dogs need our help the most.
Today was this boy's lucky day. If you can call it that. He was eating the treats that I tossed him and he got a brand new dog house!
This is pretty typical for outside dogs without any shelter in East St. Louis. They are chained to something on a metal link chain that is too short and too heavy. They usually have water or food bowls outside, but they are almost always empty. In addition to the dog houses and straw, we gave everyone with empty bowls food and water after getting permission from their owners.
The yard is also typical. Since the dogs live their whole lives in this small space, there is usually no grass so all the poor pups have to lay on is a cold and muddy ground.
This dog is luckier than most. His owners had a dog house for him and a fenced enclosure. While the area was small, it is still better than living life on a chain.
Unfortunately, he had outgrown his dog house so we were there to give him a larger one. The owners agreed to give us the old one so it could go to another dog.
This dog was also in a fenced enclosure, much bigger than most. She was terrified of us, and ran from one corner to the next as Brian worked to set up her new dog house and filled her bowl with food.

The wire crate next to her new dog house was what her owner had set up for shelter. Imagine this poor girl sleeping in that cage on below freezing nights.
I give Brian a lot of credit. He wasn't afraid of approaching any of these dogs in their space. This one was living in a fenced yard with a dog house, but needed straw to keep warm. She was so excited to have Brian in the yard and wanted to play so badly, but fear mostly kept her just out of arm's reach.
These two 3 month old pit bull puppies have a much better life than most. They spend most of their time inside a warm house with people who love them. Outside they each have a dog house and they only spend a few hours each day out there.
The owner was really appreciative of the straw and the information we gave her about our free pit bull spay and neuter program. She didn't know if they were old enough to start getting shots, so they haven't had any yet. Our outreach program will hopefully help her get them all fixed up before they start having puppies together.
No one was home at this house, but we just couldn't leave this poor guy out in the cold. We set him up with a dog house and straw, food, water and treats. We left a note on the front door letting the owners know the free dog house came from Gateway Pet Guardians. Hopefully, they will read the flyer too and take us up on getting this guy neutered for free.
Searching for Puppies:
At one of the homes where we stopped and gave out straw, we met a nice young man who told us about some stray puppies that where living nearby in an abandoned house. He said his sister had decided to keep one and he brought her out to show me how cute she is.
He gave us directions to the abandoned house where the puppies were living. The directions were: "Take this street this way, then cut over one street to the street back there, then go down about 3 houses and you'll see an abandoned house behind the others. You can't miss it."
Um…yeah we could. We drove up and down and searched inside 5 or 6 abandoned houses for the black mother and her 5 other puppies with no luck. We met a man while we were searching who supposedly knew which house it was…he said it was next door to his house. He needed some straw for his dogs, so he hopped in the back of our truck and we drove him one block to his house. While Brian loaded up his dog houses with straw, I walked next door and found this shivering puppy on the front porch.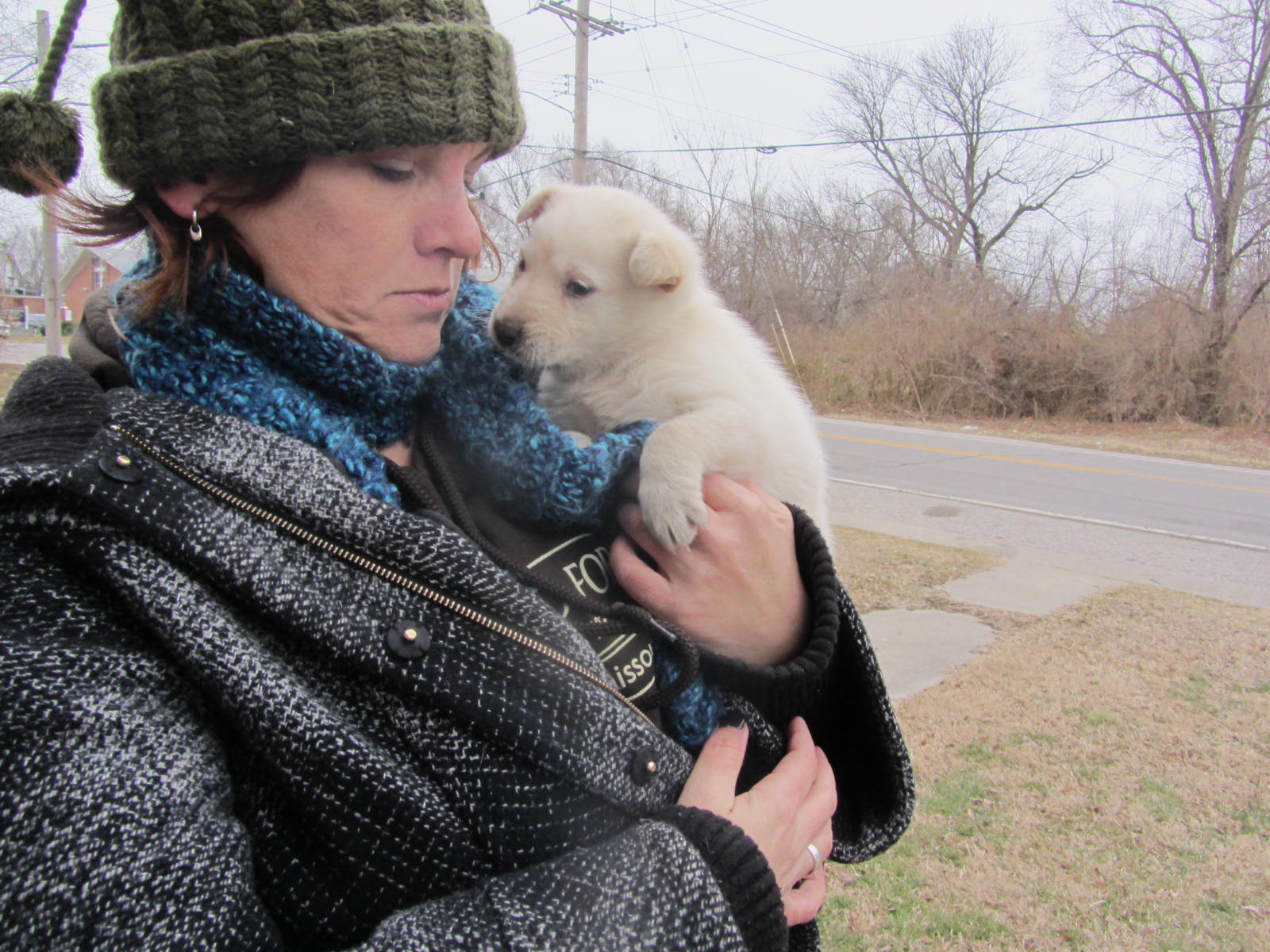 I tucked the puppy inside my coat to get her warm and to keep her out of sight of her mama, who was watching us from the next yard. According to the man who directed us to the house, she was 'crazy' so we were happy she chose to keep her distance.
While we were looking all over the property for more puppies, an older gentleman in a suit came out the front door and asked what we were doing. We had knocked earlier but I guess he didn't hear us. He said the mother wasn't a stray…he took care of her. And he was keeping 2 of her puppies including the one tucked in my coat. He didn't know where she had hidden her other puppies.
We ended up giving him 2 dog houses. One for the scared dog in the enclosure pictured above and one for the mother in the unfenced part of his yard…though there is no way of knowing if she would actually use it. I handed him back his puppy and asked him to call us if he found the other puppies or decided he didn't want to keep either of the ones he had.
We never did find the first litter of puppies with the black mother. But when Julia and Nancy went back to the house to ask for better directions, they somehow talked the nice young man into giving us the puppy. She is now named Merry and available for adoption!
Julia and Nancy drove by this black pit bull mother near where we were looking for the puppies and gave her some food. We aren't sure, but think she might be Merry's mother. The white paws certainly match.
Abandoned Homes:
Everywhere you look, there are abandoned homes. Some blocks are actually in pretty good shape, and then you drive down a street with homes like this. Trash everywhere. Boarded up windows. And people living in occupied homes next door.
Searching for puppies means crawling through any opening to get into the abandoned homes and fighting through brush to get into backyards.
There were homes in much worse shape that the ones in these pictures. Roofs falling in. Burned out shells. Doors wide open. But my focus was on watching for dogs, not snapping pictures. I'll try to get better pictures next time.
Feeding the Strays:
While we were driving around looking for homes that needed dog houses, we ran across a few strays and made sure they got a good meal.
We even found Remy and Pooch, the parents of the latest litter that was rescued. Remy's tummy is still full of milk even though we are taking care of her puppies now.
Remy and Pooche's puppies:
This litter of puppies are named after vacuum cleaners. If you've ever seen baby puppies eat…you'll understand why the names were chosen.

UPDATE – Remy (mama pictured above) has also been rescued and is looking for a forever home! All of these puppies have adopters lined up!
Eureka
 Oreck
Bissell
Hoover
Dyson
How to Help:
If you live in the St. Louis area, you can become a foster parent or volunteer for Gateway Pet Guardians. Volunteers are needed to help at the emergency shelter, help at adoption events and fundraisers, transport foster dogs to adoption events and do community outreach in East St. Louis.
If you live somewhere else, I'm sure you have a rescue group serving communities like East St. Louis in your area. 
More than anything, we need donations. Buying food and dog houses and paying for medical bills costs money. We are currently on a limited rescue status because we just don't have the money to rescue them all. Only the babies or injured dogs who can't survive in the cold are getting rescued right now. Money will change that.