I love it when I discover a new recipe that combines my favorite flavors.
I found this recipe a few years ago but it took me forever to make it because I never seemed to have apples and ground beef in the house at the same time. When I did try it, I could have kicked myself for waiting so long.
I just love curry…the mild yellow curry you get in the spice aisle in America, not the authentic spicy ethnic varieties. My favorite brand is Sweet Curry Powder from Penzey's.
I also really like ground beef, onions, apples and custards…so this recipe is a real winner for me.
I know it looks like a lot of ingredients. But I always have everything but the ground beef, apples and lemon in the house. Take a good look…you might have most of the ingredients in your pantry too. If not, substitute what you do have or make a trip to the grocery. It's worth it.
Bobotie:
Ingredients:
3 tablespoons light olive oil (original recipe stated just oil, so use what you want)
2 tablespoons curry powder
1 large onion, chopped
1 large apple, peeled and chopped
1 lb ground beef (original recipe was in metric and called for 500 grams which translates to .88 lb)
1/4 cup breadcrumbs
1/2 cup 2% milk
1/3 cup powdered milk (optional)
2 teaspoons dried thyme
2 teaspoons fennel seeds (original recipe used tarragon)
2 tablespoons fresh lemon juice
1/4 cup pine nuts (original recipe used chopped almonds)
1 tsp kosher salt (to taste)
2 eggs, beaten
1 1/3 cup milk
4 bay leaves
Directions:
Preheat oven to 350°F.
Chop the onion and the apple, keeping them separate.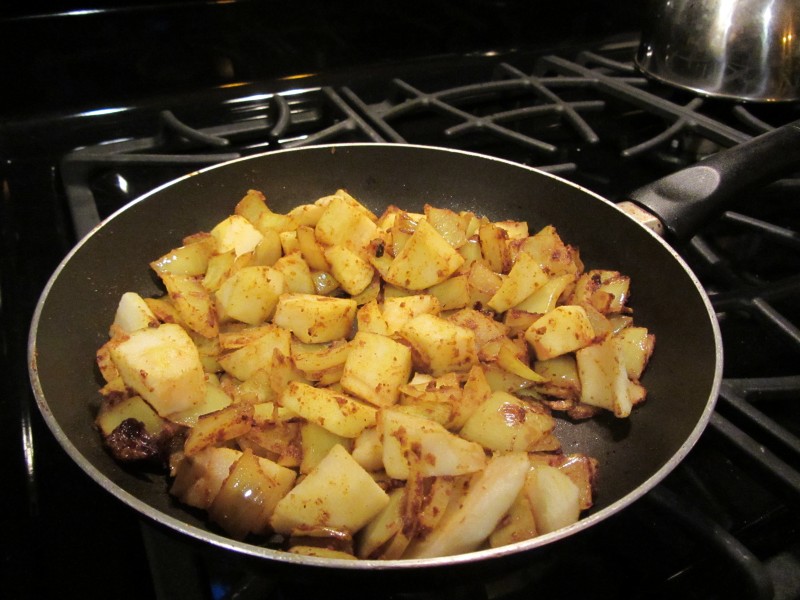 Heat the oil in a frying pan and add curry powder, stirring until it is incorporated. Add onions and saute until transparent, then add the chopped apple and saute until the apples is softened.
While the onion and apple is cooking, mix 1/2 cup milk and bread crumbs in a large bowl. The powdered milk does not have any affect on the taste or texture of this dish. It simply gets more calcium into each serving. If you want to add it, stir it into the milk and bread crumbs mixture.
When the onion/apple mixture is softened, add it to the breadcrumb mixture. Add the remaining seasonings to the onion mixture (thyme, fennel seeds, lemon juice, nuts and salt). Stir well.

In the same frying pan, saute the beef until brown, stirring it up to break the ground beef into crumbles. When the meat is no longer pinker, pour it into a strainer to drain away the grease (I set the strainer on top of an old can to catch the grease. It will harden and you can toss it in the trash rather than down your plumbing pipes).

Add the ground beef to the onion/breadcrumb mixture. Stir well and pour into baking dish that was coated in cooking spray. Mix eggs and remaining milk and pour over the dish. Place the bay leaves in the middle as decoration. Bake for 40 – 50 minutes.

Printable recipe with nutrition information below. 
Original recipe from Food.com.
If you try it, I would love to hear what you think and any changes you made to the recipe in the comments below.
I love Pinterest, Facebook and Google+ shares!
SEE MORE GROUND BEEF RECIPES:
[kitchenbug-your-recipe-appears-here-22745]